Welcome to Dancezing!  Modern Line Dance and more………
If you enjoy dancing, you will have a great time at our dance classes!
Our emphasis is on having fun while dancing and you will find a great atmosphere in our classes. Our dancers are friendly and everyone is made to feel welcome.
We dance choreographed routines to all different music genres including pop, Latin, Irish, country and more.
We hold classes in Modern Line Dance, Salsa Solo and Latin Groove
All dancing is without a partner.
We cater for all levels of dancer from absolute beginner to intermediate level and we hold both daytime and evening classes. All routines are broken down into manageable sections. You don't need any experience, just a sense of humour!
Check out some of our dancer's comments at the bottom of this page to see what they say about our dance classes 🙂
You will find more information on our Dance Classes page.
We also run regular social events throughout the year which are lots of fun for all of our dancers. Non dancers are welcome too, which gives our  dancers the chance to show their friends and families what they have learned. See the videos below to get an idea of the fun we have.
You will find more information regarding our social events on our News & Events page
We are able to provide instruction for parties, corporate events, charity fundraising events etc where we can run a program of line dances, barn dances and circle dances. With easy to follow instruction we ensure everyone is able to join in and have a good time.
 We look forward to seeing you on the dance floor!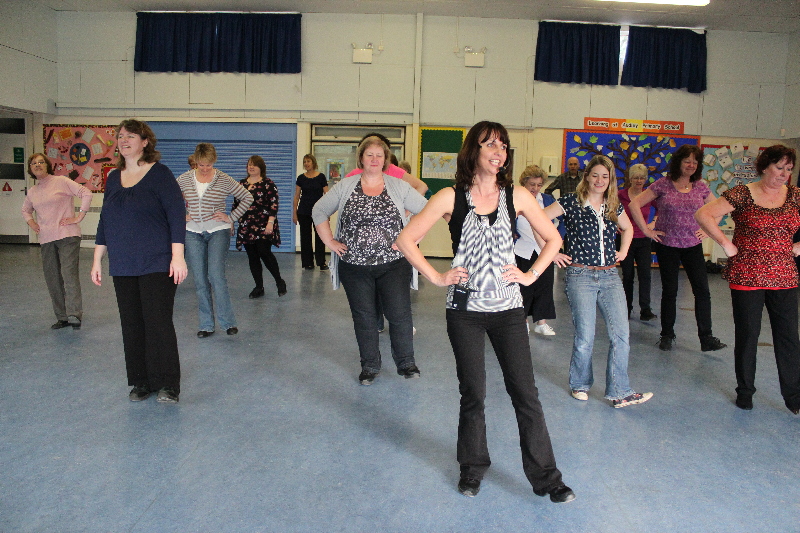 One of our line dance classes in Caterham in the hall at Audley Primary School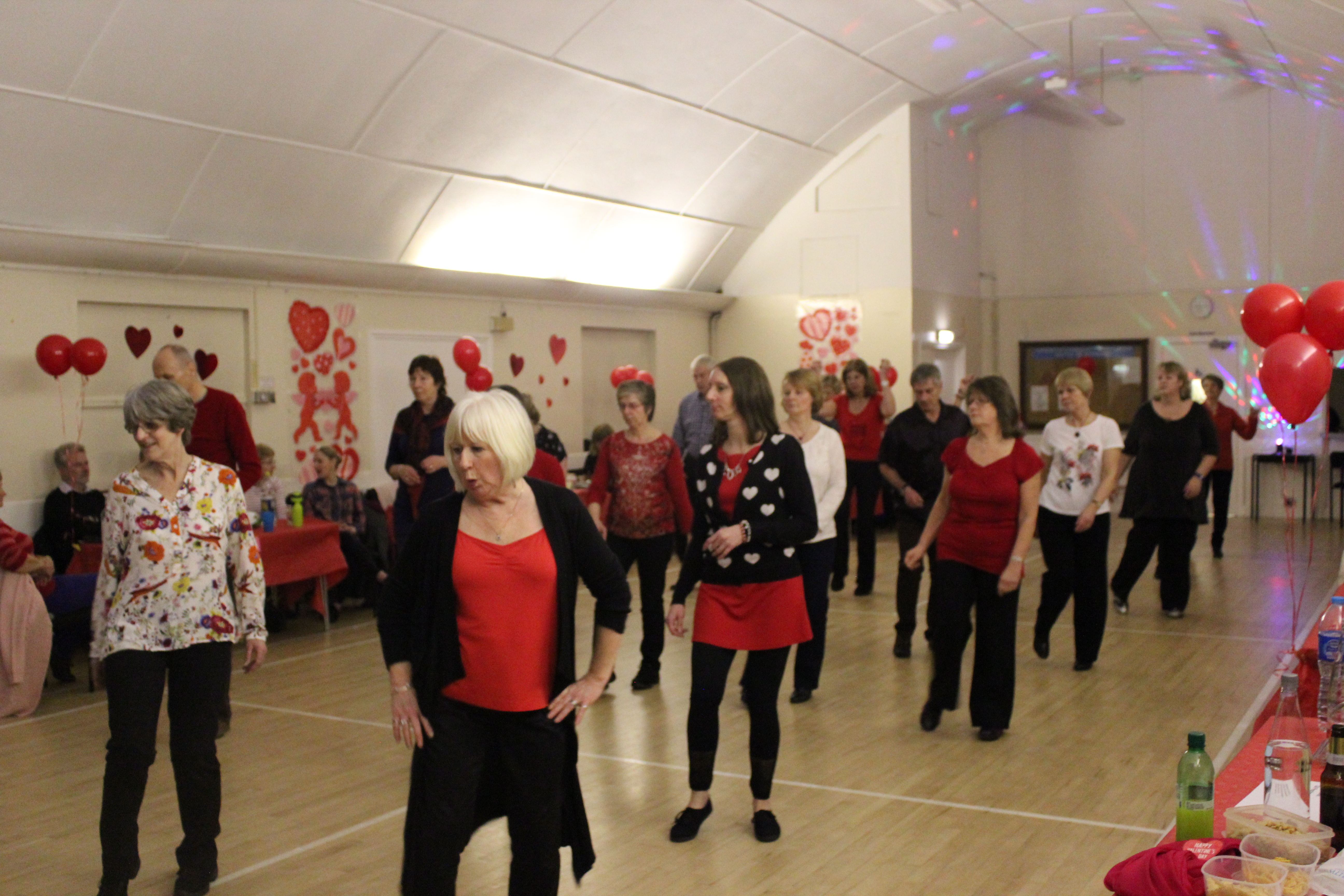 Our 'Red Heart' social night – February 2016 at Caterham Community Centre. Raising funds for The British Heart Foundation
Here we are having fun at one of our social nights. We were joined by a hen party who had an hour of line dance tuition before hand.
Nicky, (dance instructor), giving a little reminder of the steps for a line dance at one of our recent social nights
Here's what some of our dancers have to say about our dance classes
Really good fun, lots of laughs when things go wrong, enjoy the mix of styles and music old and new. Love the sense of achievement when we crack a difficult dance. Just heard 'One Way Ticket' on the radio, had to stop and see if I could remember the routine, which I could. Takes your mind off the day's work and problems. I really miss it when classes are closed or on holiday.
Mark Wiles
I love to dance. I don't want to have to have a partner, so line dancing seemed the best style of dance to learn. It also keeps your mind and body fit. Have been line dancing for years & returned to it after a full hip replacement and now attend Nicky's Wednesday evening class. The music is great, we have fun, fellow dancers are lovely and our teacher is superb. Come along, have a try, you won't regret it. One of the dances we do is called 'Better When I'm Dancing' and………..I am. What's that text 'thing', LOL: laugh out loud? I do, every session!
Valerie Creasey
I started line dancing about 8 months ago – really unsure what to expect as had never tried it before. It totally opened my eyes to what an enjoyable and fun time can be had attending the classes. Everybody is so sociable and it is never a problem if you do not get the steps the first time, everybody has their moments and Nicky will always help you 100%, never makes you feel uncomfortable about it and everyone has a giggle together. It is a great form of exercise and also helps with memory, learning the various dances.
Am disappointed when I am unable to attend, never thought this would be for me but I have a really great time
Pauline Goatley
I come to line dancing because it's great exercise, physical and mental, lots of fun and I love the music
Chris Freeman
I love my line dancing classes and look forward to Wednesday evenings every week. The atmosphere is very relaxed, it's a great way to make new friends and its FUN! Who cares if you go wrong now and then, it's all part of the learning process and it gives fellow dancers a chuckle! It's my way of keeping fit – who needs the gym when you can DANCE?
Lynda Allen
I have always loved dancing but had never done line dancing before. I really enjoy it and find it really good exercise without being too vigorous. It has also given me the opportunity to meet some lovely people. I must add that the atmosphere at our Thursday morning class is absolutely fantastic. The teacher explains and demonstrates each dance so well and shows enormous patience without making us feel under pressure. I also love the variety of dances and the music. If anybody is thinking of doing line dancing, come along and I promise that you will enjoy every minute and continue to do line dancing.
Doris Downes